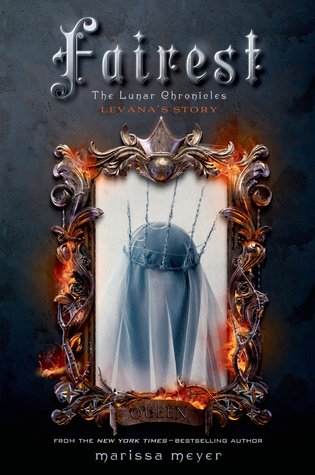 I read this book in one sitting. Even if it had been longer than 222 pages, I would have read it in one sitting. I almost always appreciate when an author takes a break from the main story line to give us more history on a character. This book is an incredible example when this works.
Fairest
gives us the background on the Evil Queen that I loved to hate from The Lunar Chronicles and, while I still do not like her, I at least understand her.
Probably what I loved most about this book was its handling of the topic of real love. Levana's romantic fantasies/concepts remind me of my own from when I was her age. I wish she could have held out long enough to get to experience the real thing, like her "true love", Evret, told her she should do. Levana is the embodiment of the expectations teenage girls develop from too many fairy tales and not enough real life stories of love. I recommend this book for anyone who has ever been a "fangirl". You will recognize the symptoms in Levana.
This entire book, from beginning to end, had me filled with emotions, not all of them sympathetic to Levana. Even now, after I'm done with the book, I still feel the effects of it. I still do not like her, but I understand her. I pity her because she never had a chance at being stable. I gladly give this book 5 hoots and strongly encourage you to get your own copy.